Surrogate mother, 56, becomes oldest woman to give birth to triplets – but they are actually her grandchildren.
An Ohio woman has given birth to her own, triplet granddaughters.
And in having her daughter's three newborns, Jaci Dalenberg, 56, may have become the oldest surrogate mom anywhere to have had triplets, according to the Cleveland Clinic.
Dalenberg, who had four adult children of her own, carried the triplets for her daughter, Kim Coseno, 36, who is married for the second time, and her husband, firefighter Joe Coseno, 30.
It's Kim's second marriage and Joe's first. Kim has an 18-year-old daughter and 13-year-old son, but Joe wanted to have kids, as well. Trouble was, Kim was no longer able to carry a child. They tried to adopt, but were having trouble with the process.
Knowing that, and observing how good Joe was with Kim's kids, and seeing how sincere Kim and Joe were about wanting kids of their own, Jaci says she considered it for almost a year before offering to carry a child or children for Kim and Joe.
Kim underwent IVF at Cleveland Clinic, where eggs from her remaining ovary were fertilised by Joe's sperm.
It took three attempts before Kim's fertilised eggs successfully implanted in her mother's womb.
Jaci Dalenberg acted as a surrogate mother for her daughter, Kim, who battled with infertility after a hysterectomy, and has given birth to three babies, each weighing less than 3lbs, a minute apart.
In birth order: Elizabeth, the singleton, weighed in at two pounds, 14-1/2 ounces, Carmina was two pounds even, and Gabrielle tipped the scale at two pounds, nine ounces.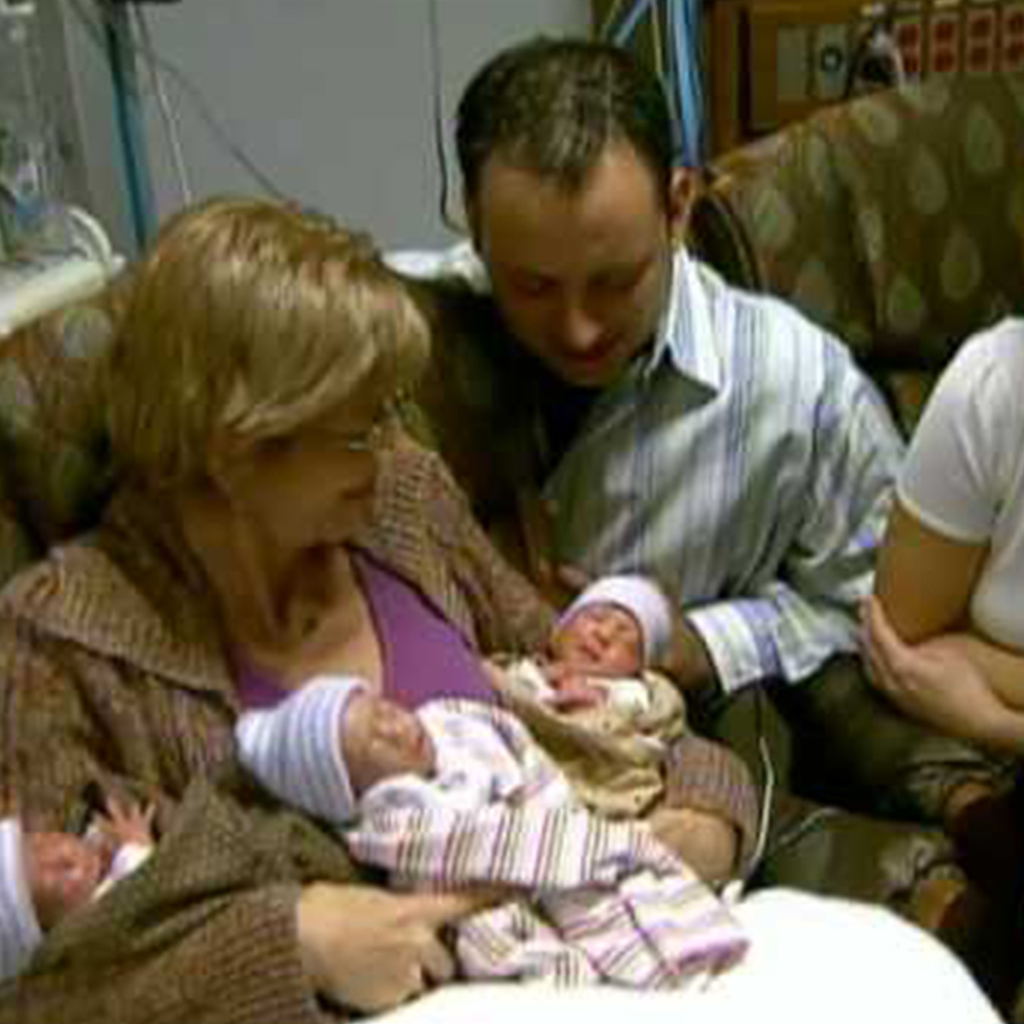 Jaci told Closer magazine: 'When the babies were born, I was ecstatic. The hardest part was leaving them in the hospital when I was released four days after the birth.
She added: 'I don't feel like I want to care for the babies myself.
'I have already raised four beautiful daughters.
'My time for being a mother is over. I'm their granny and I have no plans to ever be pregnant again!'
Kim said: 'It's the most amazing thing any mother could do for her daughter.
'Of course, we'll tell all the girls how they were born – I want them to know what an incredible thing their grandmother did for us.
'I want them to know how special they are and all about their unusual start in life.'