After working a 12-hour shift, a mental nurse who was unaware of her pregnancy gave birth to a girl at home. With the assistance of her husband Daniel, 34, Emma Hindmarsh, 31, of Sunderland, Tyne and Wear, gave birth to their daughter Isabelle Rose, who weighed 5 lbs 8 oz, in their bedroom. The nurse described how she experienced intense aches while working on the ward and what caused them. She had just concluded a lengthy shift at a complex care unit. She overate while in quarantine, which is why she gained weight.
And Emma and Daniel, who also have a 3-year-old boy named Oliver and welcomed their daughter into the world, are still in disbelief. On May 2, Emma finished her shift at work, went upstairs, had a shower, ate dinner, and took two paracetamol before texting Daniel in pain at 11:30 p.m. As Emma's discomfort increased, Daniel called 111 before an ambulance was dispatched. However, Isabelle was born barely two hours later, allegedly five weeks early, and was assisted in giving birth by Daniel and Emma's mother over the phone prior to the arrival of the paramedics. Speaking on the night of the birth, Emma said: "Something wasn't right, and the pain was so severe that I thought it might be my appendix."
When we called 111, they confirmed that it was feasible and conducted an evaluation to determine if we could avoid traveling to the hospital in the given situation. At that point, I called my mother and asked if she could watch Oliver while we waited for an ambulance.
The agony worsened, she said, and as she lay in bed, her water burst. Daniel could see Isabelle's head as she began to arrive, and my mother shouted that I needed to exert more pressure. I never imagined myself exiting an ambulance with a baby in tow. Compared to when I was pregnant with Oliver, it has completely changed. Emma said she did not experience morning sickness and continues to wear her everyday clothes, which, although a bit tight, don't make her question whether she's pregnant.
She said: 'I have no symptoms of pregnancy, I have no morning sickness, no appetite, no reduction in anything and I am still wearing my normal clothes, which are a bit tight, but I think that's it. Locked up and ate a little more. Here she is and she is small but perfect and I don't think it doesn't matter what happened, she came into the world at that time. It's completely surreal. I can't put into words how it feels. It's lovely that she's ours and we really don't have anything, not even a baby growing up. Oliver is going to be a great brother and he loves babies, so he's going to be mesmerized by her. Everyone was amazing and supportive, rallied around.'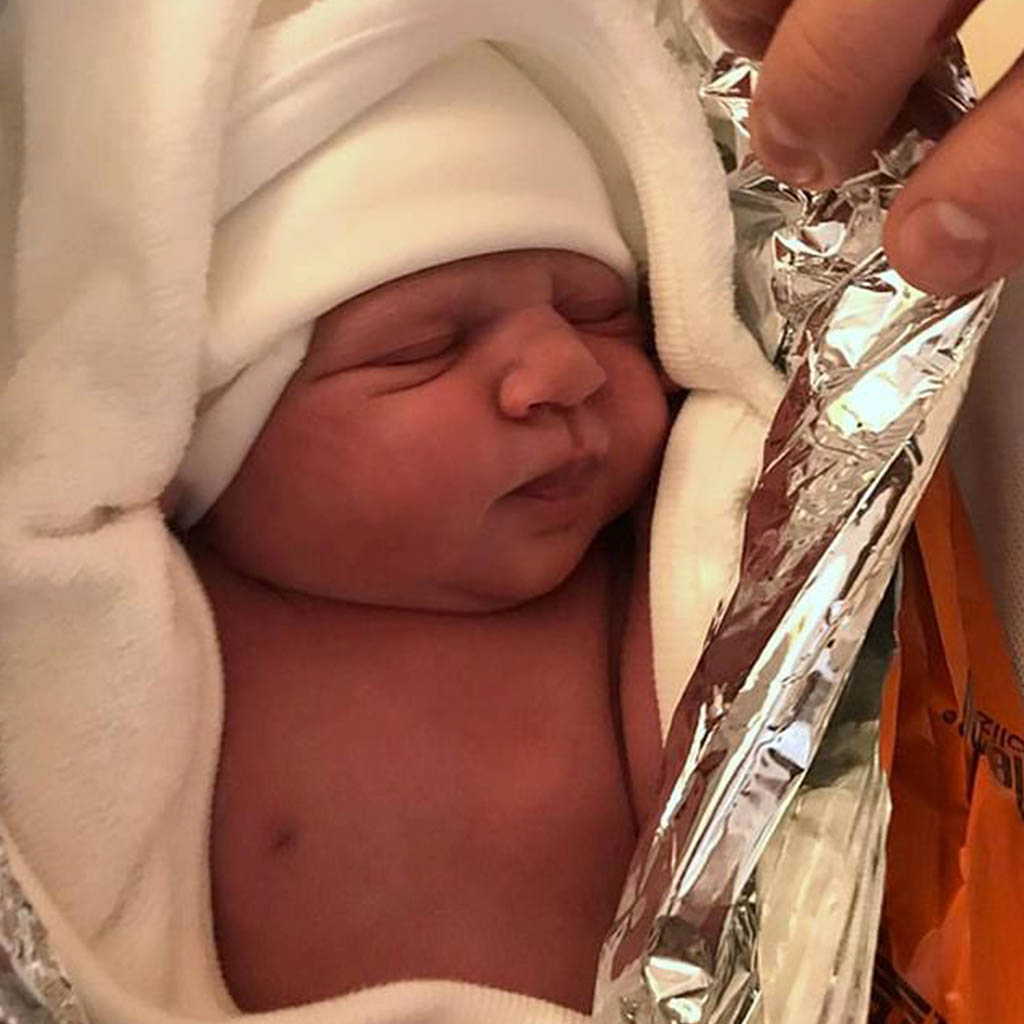 Emma and Isabelle are now at home after days of extra monitoring at the Royal Sunderland Infirmary, where doctors say the position of the placenta may be masking Isabelle's sense of movement. The second-time mum said: 'Obviously I'm on maternity leave now and Dan is on maternity leave and it's been a huge shock to everyone – the ambulance staff, the hospital, the family and friends, but they were all very supportive. Daniel is on the moon. I think the sheer experience of it all took away the panic. He's a down-to-earth dad and is very nice to Oliver. She added: 'My mum was nice too, she just talked to me about it. Daniel, an engineer at Caterpillar in Peterlee, added: 'This issue is still just amazing and we're trying to figure it out.
I can't stop complimenting Emma, she worked hard all day, took two painkillers and then gave birth. We can't wait to bring them both home. Daniel announced the news on Facebook, posting: 'After coming in from a 12pm shift last night and going to bed with the most terrible pain, Emma Hindmarsh and I were amazed when 2 hours later and 2 pills Paracetamol, this child is fully awake. Hello Isabelle Rose Hindmarsh, born 5/3/20, weight 1.45 weight 5lb 8oz.'